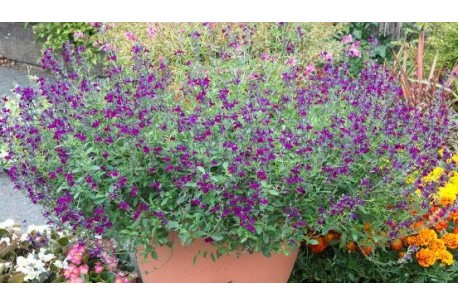  
Salvia x jamensis VIOLETTE DE LOIRE® 'Barsal'
Original violet from May to the first frosts
The flowers, more than 3 cm long, are of an intense, velvety violet, with a purplish blue light in its centre. The flowering starts abundantly in May and continues until the first frosts.
VIOLETTE DE LOIRE ® has an upright and well-branched shape.
The foliage is small, dark green, semi-evergreen and naturally aromatic.
An easy plant for the garden, in well draining soil, also tolerates being planted in a pot. The Salvia range on sale by SAPHO offer a beautiful palette of colours.
Data sheet
Habit

branched
erect

Flowering period

autumn
spring
summer

Flowering colour

purple

Foliage

deciduous

Foliage colour

green

Height

between 50 cm and 75 cm

Width

between 50 cm and 75 cm

Position

sunny

Hardiness

-10°C

Type of soil

draining

Use

balcony
pot
terrace

Selected by

BARRAULT HORTICULTURE

License issuer

Sapho

Type of protection

PBR / European PBR
16 other products in the same category: