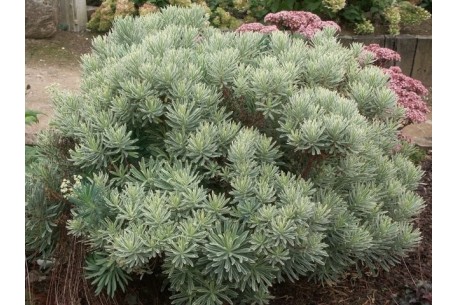  
Euphorbia characias SILVER SWAN 'Wilcot'
Brighten up your beds with SIVLER SWAN!
The SILVER SWAN selection is of medium growth. 
Its grey-green foliage with white edging is particularly bright and evergreen in winter.
Its flowers bloom in March - April, and have interesting variegated bracts, the peduncles are a grey-green.
Being very bright all season long, this Euphobia variety attracts attention from far away in garden beds or in groups in public gardens.
Data sheet
Habit

compact

Flowering period

spring

Flowering colour

two-coloured

Foliage

evergreen

Foliage colour

variegated

Height

between 20 cm and 50 cm

Width

between 20 cm and 50 cm

Position

partial shade

Hardiness

-15°C

Type of soil

light
ordinary

Use

balcony
pot
terrace

License issuer

Sapho

Type of protection

PBR / European PBR
16 other products in the same category: