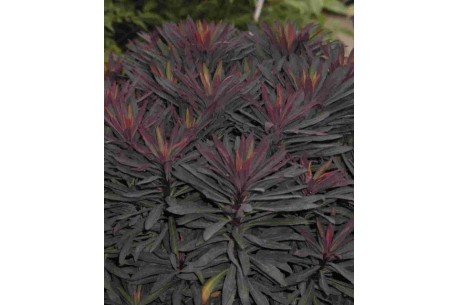  
Euphorbia BLACKBIRD 'Nothowlee'
Its purple foliage, its contrasting flowers, its compact shape are as much an asset in pots or in the garden.
This Euphorbia variety is a mutant of REDWING 'Charam'. It has kept the compact round shape. 
BLACKBIRD is remarkable for its very dark purple young foliage, which gets darker in a sunny position. Little by little, the foliage turns bronze green, and sometimes red in winter.
The flowering, which is characteristic to the Euphorbia, lasts from March to May, the bracts turning red, orange, yellow and green on the purple red stems. BALCK BIRD is very floriferous.
Its evergreen foliage, the coulour variations through the year, the attractive contrast it gives due to the numerous flower heads in spring, make BLACK BIRD a choice perennial in beds or in pots.
Data sheet
Habit

ball shaped
compact

Flowering period

spring

Flowering colour

green
orange
red
yellow

Foliage

evergreen

Foliage colour

coloured

Height

between 20 cm and 50 cm

Width

between 20 cm and 50 cm

Position

partial shade
sunny

Hardiness

-15°C

Type of soil

light
ordinary

Use

balcony
pot
terrace

License issuer

Sapho

Type of protection

PBR / European PBR
16 other products in the same category: