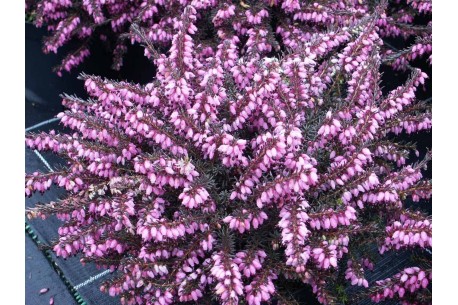  
Erica x darleyensis WINTER BELLES® 'Lucie'
All winter long, a spectacular ball of red flowers of the WINTER BELLES ® range.
'Lucie' possesses all the qualities of the  'Kramer's Rote' variety, where it comes from, and distinguishes itself through the following qualities:
- magnificent, slightly later violet-red flowers. The twice as big bell-shaped flowers give an impression of abundant flowering. Appearing in the month of December, it offers a great show right up to March.
- compact and ball shaped growth.
- dense, dark green foliage.
The WINTER BELLES ® range is made up of 'Katia', 'Lucie', 'Phoebe' and 'Tylou'. Each of these varieties can be planted individually or with others, thus bringing a harmony of colour shades in both flowers and foliage, which extend their beauty from September to April.
Data sheet
Habit

round bearing

Flowering period

winter

Flowering colour

red

Foliage

evergreen

Foliage colour

green

Height

between 50 cm and 75 cm

Width

between 75 cm and 1 m

Position

partial shade
sunny

Type of soil

acid
neutral

Use

balcony
ground-cover
pot
slope
terrace

Selected by

Pepinieres RENAULT

License issuer

Sapho

Type of protection

PBR / European PBR
16 other products in the same category: